This is one of my very favorite motorcycle roads. The way I prefer to ride it you start at St. Maries, ID and end up at St. Regis, MT. Plenty of nice roads on the way *to* St. Maries, but you can figure that out for yourself. It's about a 100 mile ride, so depending on your gastank's capacity, don't forget to fuel up in St. Maries, it's unlikely you will find fuel for sale until you reach Montana.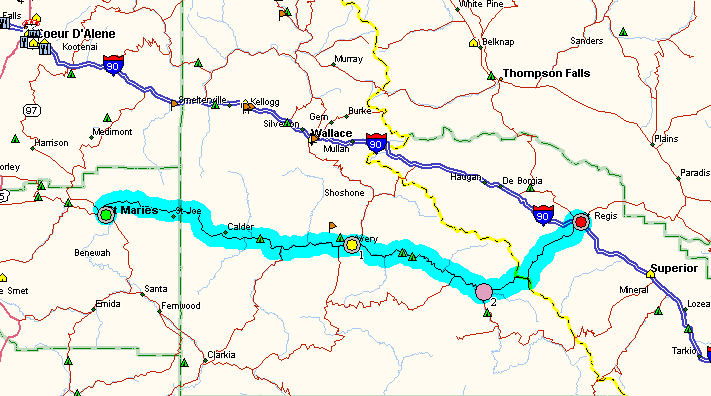 The road follows the St. Joe river upstream towards Calder, ID and begins with straights and high-speed sweepers. After Calder, the valley narrows and the road gets a bit more twisty. Oh, and watch out for a Sheriff in an SUV with a light-bar -- he's got a quota to fill. Once you've seen him though (he's the only LEO thereabouts) it's clear sailing...
A good lunch stop is the St. Joe River Lodge & Resort, in the trees between the road and the river on the left side as you head upstream. A funky rural Idaho bar/resturant. If you're lucky, there may be some 86 octane for sale here.
At Avery, you can turn north and take a dirt road over Moon Pass which drops you down into Wallace, ID, on I-90. It's nice, but I prefer to continue up the St. Joe on the paved road. Above Avery about the only traffic on the road are fly fishermen (the St. Joe is catch-and-release at this point) and kayakers. Avery is the only other place where there *may* be fuel available, but again it will be 86/87 octane only.
In this stretch of road, it gets much twistier. Kind of like the Lolo Pass highway (the next paved route over the Bitterroot Mountains to the south) only way better in my estimation. If you aren't used to it, you can actually have the thought that you're getting tired of all the corners!
At one point the road climbs 800 feet or so above the river which offers a pretty view to the right (south). Immediately after that there is a 25mph corner that is decreasing radius and off-camber. The kind of curve that can catch you unaware, like it did my friend Rick who ran out of ground clearance and ended up in the rock-strewn ditch with a couple broken ribs, a bloody face, and a cosmetically trashed K1200LT.
Watch out for it, particularly if you are riding alone. No cell phone coverage on this stretch of the road.
At Gold Creek, take the paved road which turns north from the St. Joe and head up to Gold Pass, the ID/MT border and crest of the Bitterroot Mts. From there the next 11 miles or so are hard-packed gravel. The only loose stuff you're likely to find is in the corners, and even there you can ride in the tire tracks of the logging trucks and avoid the loose stuff. This is really a *nice* gravel road, very well packed down by the big trucks. I generally ride most of it at 55mph on my road bikes (FJR1300, R1, YZF600R, GTS1000) and have ridden it at 85mph on my R1100GS. Don't be intimidated, it's really quite okay.
A few miles from I-90 the road turns back to pavement, then crosses the freeway and turns right to end up at St. Regis. Fuel is available there. The section of I-90 from St. Regis west to Coeur d'Alene, ID is also one of the prettiest bits of US Interstate in the country.
Copyright © 2003, by H. Marc Lewis. All rights reserved.