This page is dedicated to special versions of:

The BMW R G/S and GS
Special bikes
Raid and Racing transformation
A.M. Superbike : This Belgian BMW bikes dealer had made the first part of the transformation of my G/S. They produce ("a la carte" and under request) beautifull vintage airheads racers.
Bracken M.W. : Bracken is an UK independent BMW dealer, specialising in desert raid conversions for the BMW GS series, but also import new BMW's and offer full after-sales/service backup. The shop is owned by Jon Watson-Miller (ex PD rider) and has been around for well over a decade now. They still have Jon's old PD-BMW in the shop if anyone wants to have a look (pic on web soon) and have done numerous conversions for customers.

California BMW Triumph : The California's Motorcycling Newspaper CITY BIKE present in the July'96 issue a special light R100GS made for John Munger. John "wanted to build the ultimate dualsport machine" and it's done. A beautifull work made by California BMW. More than a list of optional parts (dual plugged engine, Marzocchi Magnum fork, ...), some special work are done on the bike. For exemple, a high-mounted rear brake cable (not in definitive version) and a minimal dashboard made from a BMW Mystic panel; two jewels. I'm sorry for the quality of the pics, but it's scanned from a newspaper. You can find color pics of this bike at One Trick BMW R100GS.
Fallert : They are very much concentrate on technical stuff as engines with more power, twin-spark ignitions and all other types of engine- and gearbox-modifications. Also they have a variety of different fairings (for the road oriented BMW) and suspension parts.
Gletter : Another specialist who makes special GS. They produce a stainless steel subframe for the airheads G/S and GS.

HPN ( Halbfeld - Pepperl - Neher ) : Alfred Halbfeld and Klaus Pepperl are two Bavarian experts who had worked on the official BMW Paris-Dakar bikes during the eighties. Actually, they prepare special GS with a 1043cc engine and with very special rear suspension available in 3 versions. Go to the HPN page...

Römer Team : An alu specialist who makes light GS. They produce a real frame (but still using the eom Telelever front susp) for the oilheads GS.

Herbert Schek : The great Herbert who was official BMW pilot (enduro and rally-raid races) prepares beautiful desert GS (suspension, engine with Fallert parts,...).


Richard Schalber : Another specialist who makes light GS. Richard Schalber was a rally-raid pilot (1st in marathon category at the '88 Pharaon Rally) and is actually instructor at the BMW Enduro Park and also organisator of the Transdanubia Rally. It's also the preparator of the "official" rally F650 (686cc, 163kg, Marzocchi Magnum fork, WP rear shock,... and few models will be available in '98).


TAG : An Italian specialist who works on the GS.
They made a nice special version with modern kevlar dress (fairing on Cr-Mo front sub-frame, seat, tail and Cr-Mo rear sub-frame) and they made a very nice rear arm (10cm longer but use the origine size shock). Go to the TAG page...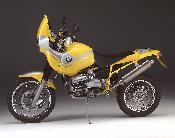 WITEC - Motorsport : An Bavarian specialist who works on the oilheads GS.
They prepare light and real off-road versions of the oilheads GS. They made Oscar Gallardo's rally bike from the Kodak-Wunderlich-Witec rally team (8th place at the 2000 Master Rally). Go to the WITEC page...

WüDo : From more than 20 years, Helmut Wüstenhöfer prepares special BM. His speciality is Fun-bikes made from GS. It's the first to present a special version of the new boxer generation. The R 850 GS, a sort of R 850 R off-road oriented (look to the pic).
Page updated November 2009